WGRF Members Update August 2022
Wayne Thompson is the New WGRF Executive Director
WGRF is pleased to announce that Wayne Thompson will be the new Executive Director of WGRF. Thompson will replace Garth Patterson, who is retiring from the position in December 2022 after 11 years.
"We are pleased to welcome Wayne to his new role with WGRF," says WGRF Board Chair Dr. Keith Degenhardt. "We believe Wayne's background and experience in agriculture research and his education make him uniquely suited to serve as the WGRF Executive Director."
Wayne has been the Executive Director for the Saskatchewan Flax Development Commission for the past 8 years and managing the Flax Council of Canada as President for the past 2 years. Prior to that, Thompson worked as a Research Program Manager for WGRF giving him a great understanding of the organization. He has held previous positions with the Saskatchewan Ministry of Agriculture in the Policy Branch and was the Executive Director of the Saskatchewan Canola Growers Association. Thompson will assume his new role with WGRF on December 1, 2022.
"I would like to thank the Board of Directors for this exciting opportunity," says Thompson. "I am looking forward to the challenge. I have an engaged group of Directors and a tremendous team in the office to work with. WGRF is a leader in agriculture research, and I will work to ensure that WGRF continues to fund crop research to benefit western Canadian grain farmers."
Research Funding Highlights
WGRF continues to participate in processes at the Agriculture Funding Consortium (AFC), Agriculture Development Fund (ADF), Ag Action Manitoba (AAM), Canola Agronomy Program (CARP) and others.
In May 2022 the Research Committee (RC) reviewed 73 Production and 50 Variety Development LOI's from the ADF and AFC calls. A total of 30 Production and 37 Variety Development LOI's were supported by the Research Committee to move to full proposals. LOI's from the Canola Agronomic Research Program (CARP) program will be reviewed by the Research Committee in August 2022. Full proposals will be reviewed by the Research Committee in October, with recommendations for funding to be considered by the Board in November 2022.
Phase 2 Capacity projects are underway. Of the 24 approved projects, 8 have been completed and 9 have fully executed agreements in place. In June, WGRF announced funding of $2.8 Million to help purchase field and analytical equipment to enhance crop research capacity at the University of Manitoba (U of M). The equipment being purchased will be used for multiple types of crops.
Sustainable Canadian Agricultural Partnership
AAFC and the agriculture industry are preparing for a new round of 'Clusters' through the Sustainable Canadian Agricultural Partnership (SCAP).  The next SCAP provides an opportunity to fill a gap in cross-commodity interactions with the environment, climate change and resiliency through a new Integrated Crop Agronomy Cluster 2 (ICAC 2). WGRF and other organizations, including many provincial commissions/associations, are participating in the development of an ICAC 2 for submission to SCAP.
Several organizations have initiated calls for proposals in anticipation of the next Cluster program. WGRF's Research Committee will be reviewing full proposals from the Wheat, Barley, Organic, and Diverse Field Crop Cluster, with the goal of the Board considering and making funding decisions in November.
WGRF Tours the Crop Development Centre, U of S
The WGRF Board toured the plots at the Kernen Crop Research Farm and celebrated the Crop Development Centre (CDC) for 50 years of outstanding crop research. WGRF is proud to be a long-time supporter and investor in CDC research with more than $40 million invested in almost 40 years.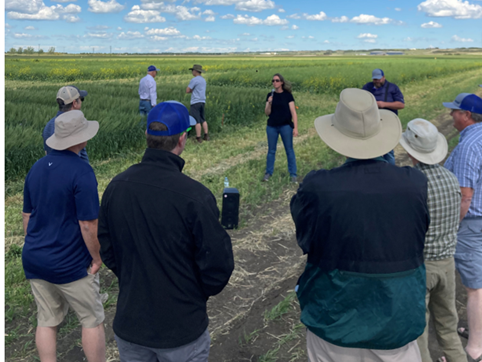 New Graduate Scholarships Established
New Graduate Scholarships ($15,000/per year) have been established at the University of Lethbridge and the University of British Columbia and are on schedule to be awarded this year. The scholarships are available to students pursuing a Master of Science in any of WGRF's priority research areas.
Field Heroes
The Beneficial Insect campaign continues to be a successful project for WGRF by providing tools for growers and agronomists to identify the most common beneficial insects found across western Canada. We launched season 3 of the Pest and Predators podcast with Shaun Haney this summer on Real Agriculture all episodes can found here: https://fieldheroes.ca/resources/#podcast
The Pest and Predators comprehensive field guide is available for download and print for free. We have continued to have a tremendous response for the field guide from industry influencers. To date we have shipped out over 2000 copies of the guides across Western Canada. 
---