WGRF Commits over $4 Million to New Research Funding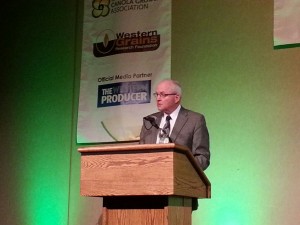 Through a co-funding partnership with the Agriculture Development Fund (ADF) and other producer commodity groups, Western Grains Research Foundation (WGRF) is excited to announce $4.4 million of new funding for 34 crop-related research projects.
WGRF funds variety development and crop research to benefit western Canadian farmers. WGRF leverages producer investment by co-funding with provincial agriculture funding bodies, producer commodity organizations and within the Growing Forward 2 AgriInnovation Program framework.
"Co-funding partnerships help maximize the investment we, as producers, are making in crop research," said WGRF Board Chair, Dave Sefton. "Producers are committed to investing in agricultural research because we know the knowledge and tools it provides are vital for our continued success."
Some of the projects receiving funding include: sequencing of special crop rotations, lentil variety development, wheat midge resistance, decrease oil losses from canola dehulling, improved clubroot resistance, detection methods for stripe rust and western Canadian cooperative variety trials. A full listing of projects will be posted on the WGRF website once research contracts are signed.
"WGRF has built relationships with member organizations and research funding partners across Canada to increase its research investments," Garth Patterson, WGRF Executive Director. "WGRF looks forward to continued collaboration in funding crop research that benefits western Canadian farmers."
---